Specializing in new England weddings
Nautical weddings, modern weddings, barn weddings, classic weddings-we do it all
Please visit our sister brand, Malloy Weddings for our full-range of wedding planning and wedding florist services.
This is Kate's wheelhouse. Her jam if you will, since 2003.
Kate's work has been seen in almost every national wedding magazine including Martha Stewart Weddings, The Knot, Brides, US Weekly, Town & Country. Her work has also been featured in many local publications such as Seacoast Weddings, NH Magazine BRIDE, The Knot Boston, to name a few. After successfully planning, designing, and executing over 500 weddings and special events throughout New England and even a few across the country, we understand that details make all the difference, and we pride ourselves on thinking about the little pieces that add up to a beautifully designed event. The custom chair backs for you and your brand new spouse (yeah!) or the cafe lights and floral garland installation in your sailcloth tent. We will help you design the most traditional or modern or rustic or nautical or even hipster-backyard soiree (yes, that's a thing) that you have envisioned. It's a process, and a really fun one at that, and we can't wait to discuss all the details and elements with you.
From grand entrance pieces that welcome guests into your reception space to custom napkin folds with flowers tucked next to a hand calligraphed menu, we create layers of design elements into your event, bringing your vision to life. Some of the floral services we provide, but are certainly not limited to are:
reception centerpieces
grand entrance floral installations
flower walls
floral garlands
wedding ceremony altar floral arrangements
wedding ceremony aisle flowers
place card table floral arrangements
bar flowers
napkin treatment flowers
In addition to floral design elements, we also incorporate rental pieces such as lounge furniture, custom built elements like four-sided wooden bars, full lighting installations, LED uplighting, custom gobos and projections, just to get your wheels turning.
Here are a few examples of wedding receptions from our partnership with the Inn by the Sea and Currier Museum of Art through the Malloy Experience: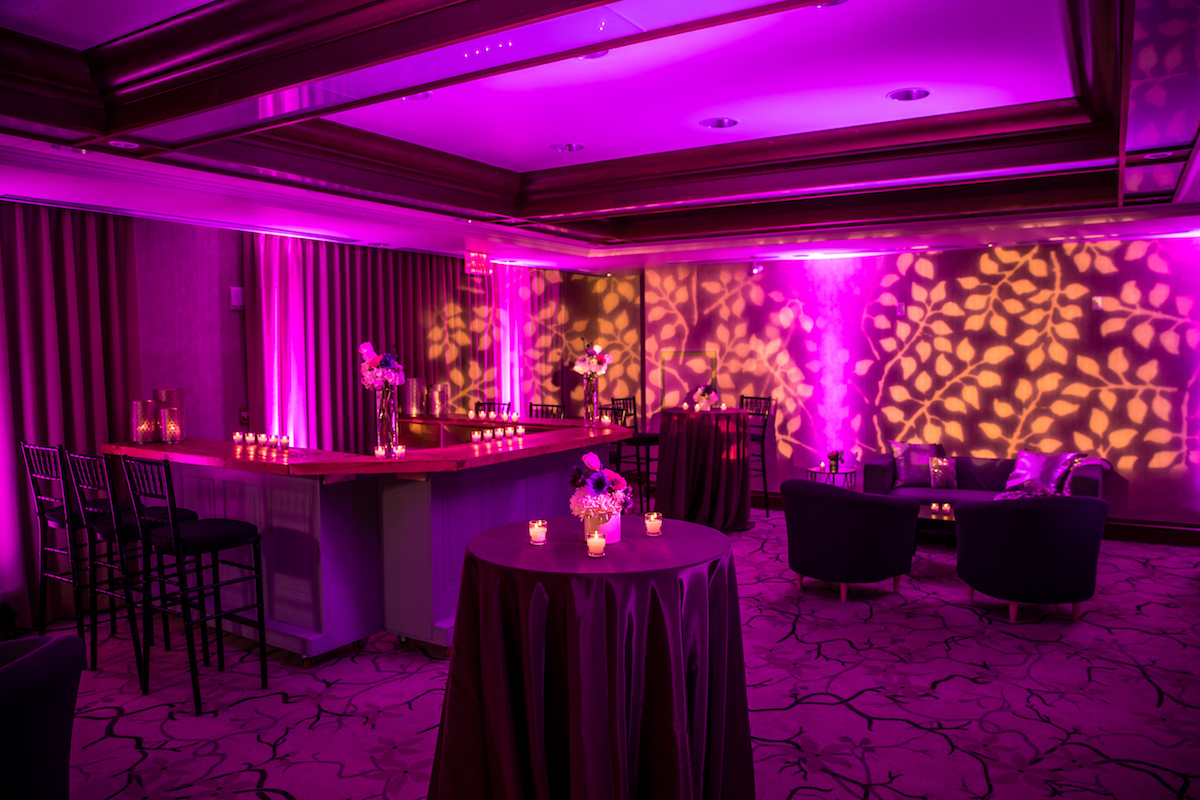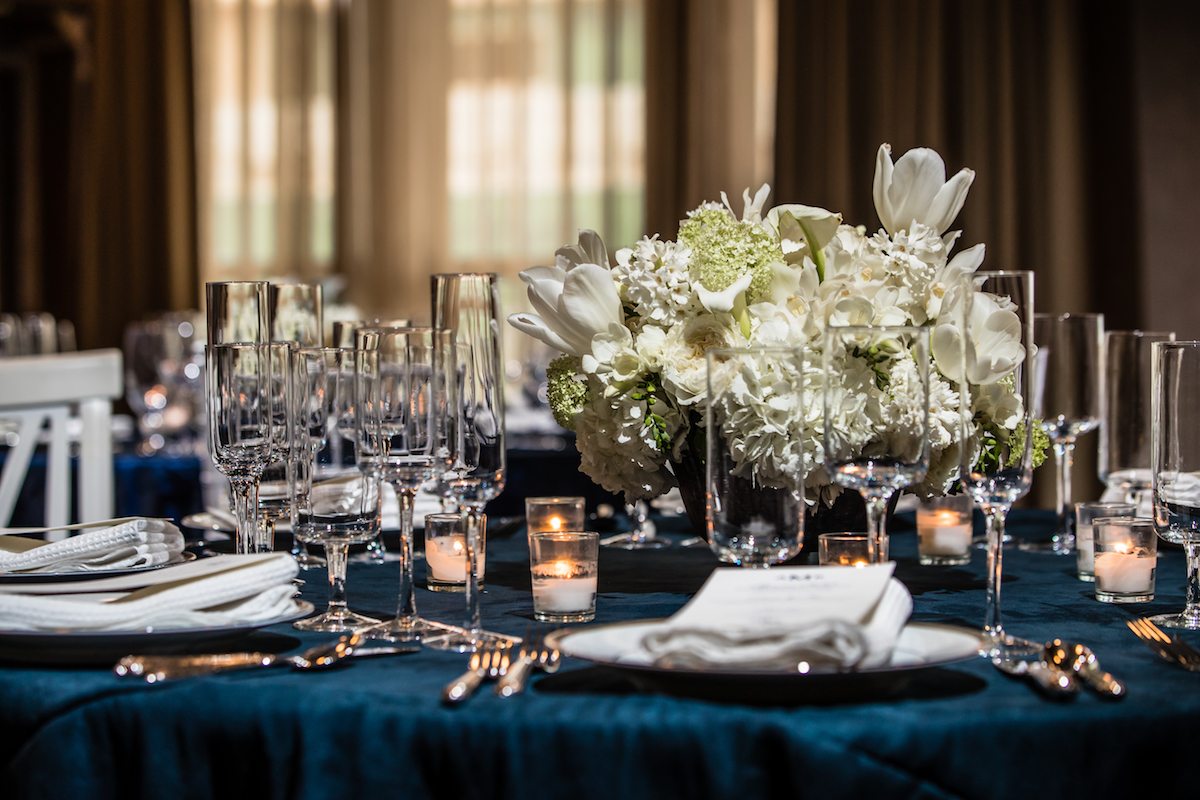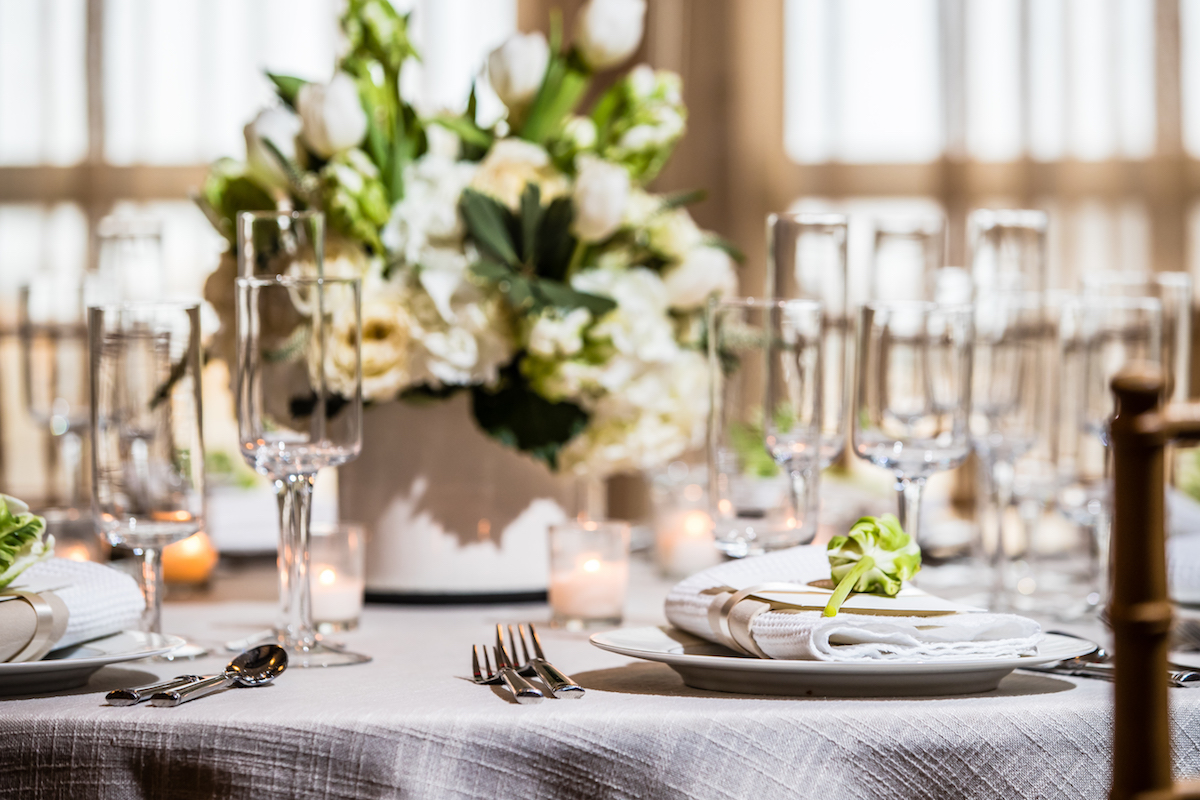 Above images from Eric McCallister and Kendal J. Bush
From coordinator to client...
It's a very interesting situation to be in when you go from planning and designing hundreds of weddings to planning and designing your own. We thought it would be fun to walk you through a bit of the behind the scenes process of how we came up with our design and to show you some of the elements we custom built just for us... and now any of our clients who are interested in such products of course!
It's also amazing to be featured at the Best of Seacoast Weddings 2017 Real Wedding that just hit news stands. Here's a link to the story and a e-version of the feature!
http://seacoastweddings.com/2017/01/26/kate-parker-and-chris-malloy/
So being the client is a very interesting place to be when you've spent your entire career helping others discover their wedding vision and assembling their wedding team of vendors. For us, we went pretty quickly from a traditional large-scale wedding vision to an intimate event where our very favorite people were standing there supporting us as we said our vows. We were SO fortunate to have a pair of best friends who just happened to own an incredible oceanfront property in Hampton NH. That venue instantly directed our design and scale of the wedding. As a designer, I tend to run along a clean line, almost masculine aesthetic sense and creating a modern and slightly nautical wedding was exactly what I would have envisioned for us.
The wedding vendor team:
When it came to assembling our team of vendors, I went right into the depths of my wheelhouse of the people who took the best care of my clients for the last 14 years.
We have to start with our officiant who was also our photographer. I met Brian Adams (Brian Adams Photographics) when I was working on an online wedding resource and we instantly became fast friends. He has photographed some our largest high-profile clients and has become one of my dearest and best friends. When we decided to get married Chris and I instantly knew we wanted Brian to marry us. After he said yes, I got a message about 15 minutes later letting me know that Brian and his team were also going to photograph and film the wedding. We couldn't have asked for a better team to spend the wedding weekend with and you can clearly see from the images and video that their talents are vast. Perfect Sky Productions produced our wedding film and they too were unbelievable to work with. Their team were our friends so they were invited to see our most vulnerable moments throughout the wedding weekend.
We worked with Chickadee Hill Cakes who designed the most fabulous cake, exactly what we had envisioned. I asked them to hand write the lyric of our wedding song, add one band of gold to the bottom tier, and make one large garden rose. It was perfection to look at and the lemon lavender blueberry layer was my favorite!
Be Our Guest helped with our rentals, and being the very first wedding vendor I ever worked with way back in 2004, they hold a special spot in my heart.
For our caterer, there was no one else we wanted but Julie Dunfey. Julie helped me with one of our largest weddings ever and her food is out of this world. We also knew if was imperative that lavender honey butter was served at our wedding and she makes the best!
Our musician was Chad Verbeck and Chris has known Chad for years and he also performed at Chris's brother's wedding so it was a very special element to have him play our ceremony.
For hair and makeup, I needed some ladies who could deal with me not wanting to sit in my seat all morning because I would be running around making flowers and tending to last minute details. Enter Maura and Annie and her team. Maura from Fringe Hair Studio came early to set my hair in pin curls and said to go and work for a few hours while she started on other people. It was amazing to be able to be the designer for a few hours while also rocking 1960's pin curls. Maura also saw me in some of my most intimate moments as I wrote my wedding vows in the master bathroom of the house. At one point it all hit me and I just started balling everywhere and she didn't miss a step.
Annie from Making Faces brought Katie with her to help with makeup and they were amazing. Annie was no nonsense and pure calmness all at the same time. She let me get up to yell down to the reception area and then said don't move, I have to pluck out that one hair, and my final makeup was exactly what I was hoping for. It was truly an honor to be surrounded by the very best in the business for our wedding.
I can't end the vendor list without mentioning our wedding favors. My parents' company, Truffles for a Cause is an amazing company that provides chocolate- and really delicious ones- that are designed to match your wedding theme and also donating or raising awareness to a cause that's important to you. My parents generously gave us these as a gift and honored the JDRF because I've had Type 1 Diabetes since 1990.
The wedding design:
Grey is one of our favorite colors and also happens to be within our brands color palate so that was a natural fit. We wanted to keep things fairly simple so we went with all white and grey with small touches of gold. Places I wanted to see gold were the invitations, calligraphy, and wedding cake. The main element to the overall wedding design was our wedding song, My, My Love by Joshua Radin. We have surrounded ourselves with Joshua Radin's music throughout our relationship and have seen him live across the country. When we decided our first dance was My, My Love, we wanted to add that element to the invitations and the cake as well. This really helped us decide the look of the wedding cake and invitation suite as well as determine where we would add touches of gold to the overall design because i wanted the lyrics to stand out a bit. As a fun detail we had the lyrics of the song calligraphed in gold ink and they are currently framed on our mantle in our home.
I worked with a white palate for flowers that included hydrangea, dahlias, roses, garden roses, spray roses, mini calla lilies and dusty miller. What can I say, I am a classic if not slightly modern florist! Our table linens were a deep charcoal grey in taffeta for a smooth texture. Silver and gold swirl charger plates helped bring a little whimsy to the tables and we had calligraphed place cards on for each guest. We daringly had an al fresco reception and kept all of the flower centerpieces low being right on the ocean.
For the additional design elements, we wanted to create a lounge-like atmosphere for guests to relax and enjoy the ocean view throughout the night. We used our white couches and chairs and added grey and gold accent pillows throughout the yard. Chris installed strands of cafe lights on white wires over the dance floor to create a central location for speeches and other important moments throughout the evening. The most amazing addition to the wedding was the custom grey stained dancefloor that he constructed and installed for our wedding. We knew we wanted to dance but didn't want to ruin the grass of our generous friend's. I also knew I wanted a non-traditional dance floor and when I mention anything custom or out of the ordinary Chris is usually already headed to the lumber yard. The final product was exactly right for us and made a great statement piece as it acted as our ceremony flooring as well.
Wedding advice and takeaways:
It goes by fast. Really fast. I have told my clients that for years and it still goes by fast when you're the couple getting married. We needed to stop and take a few minutes together throughout the wedding weekend to take everything in and to really enjoy the time together, time with our friends and families, and also just to really let the moments sink in. Do that. Take the time. It's worth it and you can't get it back.
Don't worry about everything. Trust me on this one. I was purposely positioned in a chair far enough away from the windows overlooking the reception so I couldn't react to everything happening around me and I still stood up, rolled the window open and shouted down to make sure the seams of the napkins were in the same direction. Seriously. It's not worth it. If you have your vendors assembled and your timeline in place, let the professionals do their jobs and enjoy the day. Now, we were the actual professionals in this scenario so I struggled minute by minute to be the bride for the day and not the designer, but even I got through it :)
Remember the wedding and relive it. It's an amazing feeling to have married your person and to be able to look back and remember all the feels of the day. It brings a smile to my face and tears to my eyes almost every day when I realize that I get to spend the rest of my life with Chris. Use your photos, your wedding video, your first dance song and entire wedding playlist as ways to keep you in those moments well after the last guest has gone home and you're celebrating your 10th wedding anniversary.
Finally:
As a little bonus, I thought it would be fun to show you some of the action shots of our wedding weekend, including watching Chris and I go from the planners and designers to the bride and groom. We wouldn't have it any other way...